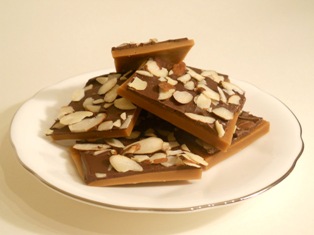 Toffees are mixtures of caramelized sugar and butter heat in a saucepan to reach a hard rock candy. Heat is the greatest factor in baking toffees because with proper heating you can achieve the desirable brittle toffee, by making sure also that you have the right temperature it will prevent your toffee to be so soft and be a butterscotch like candy. Nature of toffees is hard candy but it may come also in a little bit soft depending on the variation of toffee that you want.
There are many known variant of toffees. One the most famous and one of the most loved toffees is the English toffee or also known as almond toffee. In addition to the caramelized sugar and butter are the almonds. Your almonds can be chopped, thinly sliced or it can be crushed and have it mixed with your toffee. It make more special by topping your English toffee with crushed almonds so to add that wonderful texture upon munching your candy. English toffee can be a little soft and more buttery. Another variant of toffee is the cinder toffee or the sponge toffee. It has some bubbles in between because of the mixture of flour and vinegar into your toffee. It may bring a contrasting taste of vinegar and the caramelized sugar but it will definitely make your toffee more unique.
There are a lot of merchants selling these kinds of toffees, of which the recipes have been handed down from generations to generation just to bring that delicious toffee that all ages crave for. These toffees are also great for gift during holidays and may it even a good treat all year round. These recipes may just start as a simple homemade recipe for special occasions or it could be a special gift for your relatives and friends that eventually become a dream come true for business minded individuals.